R.I.P. of Oldish Psych & Prog blog
Global Searcher:
Site Content only Searcher


Main
»
2010
»
August
»
17
» Fred Neil & Vince Martin ~ 1964 ~ Tear Down The Walls + 1965 ~ Bleecker & Macdougal
---
17:00
Fred Neil & Vince Martin ~ 1964 ~ Tear Down The Walls + 1965 ~ Bleecker & Macdougal
genre: folk
country: us
quality: lossless (ape, cue, log, booklet covers)
time: 40'21"+34'12" size: 385 mb
misc.: 2001
Fuzz Acid & Flowers:
A folk, folk/jazz and blues singer, guitar player and songwriter, Fred Neil is a very important figure in the '60s music scene, although he's never reached a high level of public awareness.
Born in Florida in 1937, Neil came from the late '50s folk Village scene and began writing songs which have been popularized by many, many groups: Other Side Of This Life has been recorded by Jefferson Airplane, Lovin Spoonful, Eric Burdon, the Youngbloods and several other acts, Blues On The Ceiling by Tim Hardin, Everybody's Talkin by Harry Nillson, Dolphins by Tim Buckley...
Managed by Herb Cohen (Frank Zappa business associate), Fred Neil began recording in 1964 and his first songs can be found on live folk compilations (Hootenanny Live At The Bitter End, World Of Folk Music). After a rare first album (Tears Down The Walls) with Vince Martin, Bleeker And MacDougal was recorded with John Sebastian, Felix Pappalardi and Pete Childs and produced by Paul Rothchild (Tim Buckley, Doors etc.). It contains an excellent mix of folk and folk/blues and his classic songs Blues On The Ceiling, Candy Man and Other Side Of This Life. For an unknown reason, Elektra reissued this album in 1970 under the new title of Little Bit Of Rain.
In 1967, Neil left Elektra, signed a new contract with Capitol and released one of his best records, Fred Neil with Sweet Cocaine, The Dolphins, I've Got A Secret and the superb acid folk raga Cynicrustpetefredjohn Raga. Produced by Nick Venet, he is accompanied by Al Wilson (Canned Heat), Billy Mundi (Mothers Of Invention), Cyrus Faryar (Modern Folk Quartet, Cosmic Sounds) and Peter Childs. This album would be reissued under a new title after his song Everybody's Talkin was chosen for the theme of 'Midnight Cowboy' and became a huge hit sung by Nillson.
The next album Sessions is once again excellent and was recorded in October 1967 live in the studio: four acoustic guitars, one bass and Nick Venet producing.
Finally released in 1971 but probably recorded before, Other Side Of This Life is composed of one live side of his classics recorded with Monte Dunn at the Elephant Club in Woodstock, and one studio with Gram Parsons on one track (You Don't Miss Your Water).
Jefferson Airplane wrote two songs about Neil: House At Pooneil Corner and Ballad Of You And Me And Pooneil.
Refusing to play the game of promotion, interviews and tours, Neil never had much commercial success and retreated by the late sixties to Coconut Grove, Florida, where he has been engaged in dolphin research. The recent CD reissues have helped to relaunch the interest on his music. ~ (Stephane Rebeschini / Gianpaolo Banelli)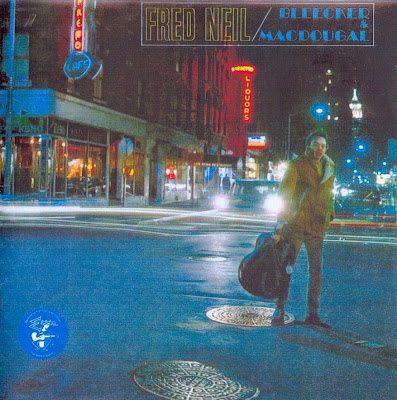 64:
01. I Know You Rider 3:13
02. Red Flowers 2:37
03. Tear Down The Walls 2:39
04. Weary Blues 4:17
05. Toy Balloon 1:53
06. Baby 4:34
07. Morning Dew 4:13
08. I'm a Drifter 2:33
09. Linin' Track 2:42
10. Wild Child in a World of Trouble 2:20
11. Dade County Jail 3:04
12. I Got 'em 3:09
13. Lonesome Valley 3:07
65:
14. Bleecker & MacDougal 2:16
15. Blues on the Ceiling 2:27
16. Sweet Mama 2:39
17. Little Bit Of Rain 2:24
18. Country Boy 2:29
19. Other Side Of This Life 2:58
20. Mississippi Train 2:22
21. Travelin' Shoes 2:19
22. The Water is Wide 4:20
23. Yonder Comes the Blues 1:54
24. Candy Man 2:31
25. Handful of Gimme 2:17
26. Gone Again 3:16
on '65 plays:
Fred Neil - guitar, vocals
Pete Childs - dobro, guitar, baritone guitar
Felix Pappalardi - bass
Douglas Hatfield - bass
John Sebastian - harmonica
Sign up please for display Links
Dear visitors, if you need the links are broken, please leave a request in the comments, I will try as much as possible to restore them for you

0.0

/

0
Total comments: 0
Action: 10% discount coupon for Depositfiles Gold accounts for 6 months and 1 year periods. The coupon is very simple in usage: you enter it on the Gold account payment page and after the prices are recalculated can buy an account with the discount.
Your coupon: vkanhlm5uqib3uugw6aqifkcudbnzqej