Bruce entered the world at Bishopbriggs, Lanarkshire on 14th May 1943. Growing up in his native Scotland he played bass in Jim McHarg's Scotsville Jazzband and was also a regular attraction in Glasgow's dancehalls. His early musical influences seem to have been Scottish folk, jazz and classical - he actually won a scholarship to the Royal Scottish Academy of Music.
In the early sixties he headed for London, playing in Alexis Korner's Blues Incorporated and then attracting attention in the Graham Bond Organisation. He later had short spells with John Mayall's Bluesbreakers and Manfred Mann before forming Cream with Ginger Baker and Eric Clapton.
He recorded his first 45, which is now an expensive collectors' item, whilst still with the Graham Bond Organisation back in 1965, so after the demise of Cream it was no major surprise that he chose to work on a solo career.
In November 1969 he put together Jack Bruce and Friends to promote his critically acclaimed Songs For A Tailor album with Larry Coryell, Chris Spedding and Jon Hiseman. His second album, Things We Like, which featured Dick Heckstall-Smith, Jon Hiseman and John McLaughlin made less impact. To promote it Spedding and Hiseman were replaced by Mike Mandel and Mitch Mitchell. In October 1970, Bruce then joined Tony Williams' Lifetime.
Bruce put together a new tour band in April 1971 with Spedding, John Marshall, Art Theman and Graham Bond. This band may have also promoted Bruce's third album Harmony Row.
His next venture was a collaboration with Carla Bley and Paul Haines on Escalator Over The Hill, a jazz-rock album. He spent from 1972-73 in West, Bruce and Laing, but in the summer of 1974 formed a new tour band with Mick Taylor (ex-Rolling Stones), Bruce Gary (drms), Carla Bley (keyb'ds) and Max Middleton - although Middleton only rehearsed with them and was replaced by Ronnie Leahy. This band promoted Out Of The Storm and stayed together until July 1975.
In January 1977 he put together another band with Hughie Burns, Tony Hymas and Simon Phillips to promote How's Tricks (Mar. 1977). In 1981, he then formed BLT with Robin Trower.
Bruce can also be heard playing Never Tell Your Mother She's Out Of Tune on Polydor's 1971 compilation Bombers. Rock Party includes Rope Ladder To The Moon; Supergroups features Clearout and Never Tell Your Mother can be heard on Vol. 2 of the same series. Willpower, the anthology set, covers his career up to 1978. More recently, the Prime Cuts compilation includes Pieces Of Mind from 1974.
Clearly a very talented bass guitarist, Bruce only really enjoyed the success he was capable of for short spells of his career. He also played on several cuts from 1966/67, which were unissued until they appeared on the new 1995 Duffy Power CD, Just Stay Blue, released on r-p-m's new mid-price label.
(Vernon Joynson/Jim McMaster)
"Without a Word" (Jack Bruce, Pete Brown) - 5:26
"Johnny B'77" (Jack Bruce, Pete Brown) - 3:23
"Times" (Jack Bruce, Pete Brown, Hughie Burns) - 4:49
"Baby Jane" (Hughie Burns) - 2:37
"Lost Inside a Song" (Jack Bruce, Pete Brown, Hughie Burns) - 4:04
"How's Tricks" (Jack Bruce, Pete Brown) - 4:12
"Madhouse" (Jack Bruce, Pete Brown) - 3:45
"Waiting for the Call" (Jack Bruce/Pete Brown) - 5:48
"Outsiders" (Jack Bruce, Pete Brown) - 2;57
"Something to Live For" (Tony Hymas, Pete Brown) - 5:19
"Without a Word" (alternate version) (Jack Bruce, Pete Brown) - 5:50
"Something to Live For" (alternate version) (Tony Hymas, Pete Brown) - 3:52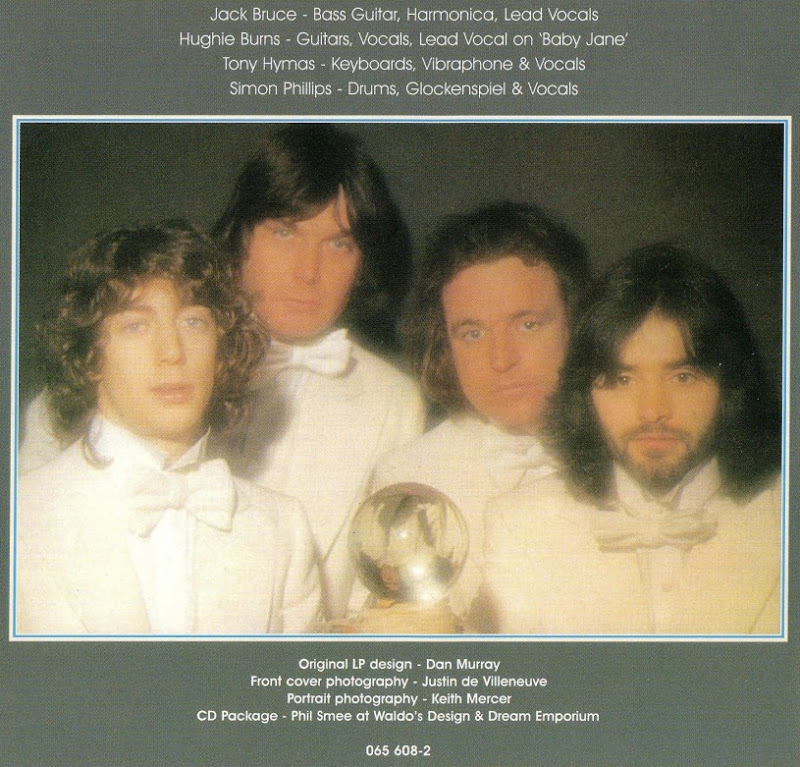 Jack Bruce: Bass, harmonica, lead vocals
Hughie Burns: Guitars, lead vocal on "Baby Jane"
Tony Hymas: Keyboards, vibraphone, vocals
Simon Phillips: Drums, glockenspiel, vocals