R.I.P. of Oldish Psych & Prog blog
Global Searcher:
Site Content only Searcher


Main
»
2010
»
August
»
10
» Kaleidoscope ~ 1968 ~ Beacon From Mars & Other Psychedelic Side Trips
---
18:37
Kaleidoscope ~ 1968 ~ Beacon From Mars & Other Psychedelic Side Trips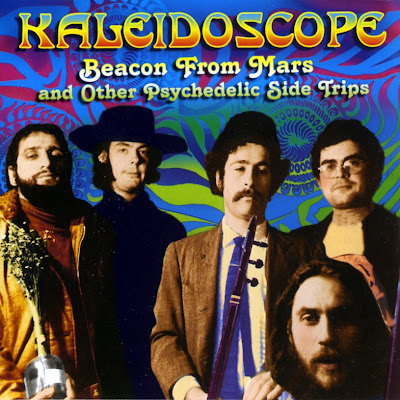 genre: psych
country: us
quality: lossless (flac, cue, log, scans), mp3 (320k, scans, 191 mb)
time: 1:18'06" size: 469 mb
misc.: 2004
Fuzz Acid & Flowers:
Kaleidoscope's music was so wide-ranging it is difficult to categorise. Not surprisingly therefore, all of their albums have become obscure collectors items. However, compilations of material from their first three albums are now available, and all the original albums have been reissued on CD.
An explanation for the range of this group's music can be found in the backgrounds of its personnel. Lindley, born in LA, had previously played with a number of bands, including The New Christy Minstrels and The Greenwood Singers and had also played banjo for several labels. He formed the group in September 1966. They initially called themselves The Baghdad Blues Band. Feldthouse originated from Ismit in Turkey and played a wide range ot exotic instruments which included the sax bouzoukee, dobro, vina, doumbeg and dulcimer as well as the more mundane 12 string guitar and fiddle. He was responsible for the Eastern influence on tracks like Egyptian Gardens, Why Try and Keep Your Mind Open on their first album. Darrow was born in South Dakota, but raised in Claremont, California. His musical taste encompassed bluegrass, country, blues, jug band, R&B and old time jazz. Percussionist, Vidican, grew up in Hollywood and Epp was from Oklahoma City. Apart from the Eastern-influenced songs, other tracks on their first album included the traditional Come On In, Oh Death and the offbeat Minnie The Moocher. Another cut Please was chosen as the 'A' side for their first single with a non-LP track, Elevator Man. a more straight ahead rock track with some superb guitar playing from Lindley, on the flip. The single went nowhere. Next off they tried are mixed version of Why Try and a version of Little Orphan Annie, written by Darrow and Epp, which later tumed up on the Bernice album in a very different form. However, this 45 made no commercial impression either.
A Beacon From Mars contained an incredible 12-minute 'live' version of the psychedelic title track and an 11 minute 'live' version of their Eastern-jam Taxim. Indeed, their 'live' performances were quite a show with a belly dancer performing to the latter track and flamenco dancers accompanying their Spanish guitar work. The remainder of the album comprised more traditional country-influenced songs like Greenwood Sidee, Life Will Pass You By, Louisiana Man and the goodtime rag Baldheaded End Of A Broom.
By the time of Incredible Kaleidoscope, Darrow and Vidican had left. Darrow played fiddle on Morning's second album and went on to record a number of solo albums. He has also had a number of recent releases on the German Taxim label, played for a very short time with The Nitty Gritty Dirt Band and also backed Linda Ronstadt. Side 1 opens with the Eastern-influenced Lie To Me and the goodtime rag Let The Good Times Flow. The bluesy Temple Arizona is followed by the country-influenced Petite Fleut and Banjo. Side 2 contained the group's arrangement of the traditional ballad Cuckoo and the 11.30 minute Seven-Ate Sweet.
However, Bernice was comparatively weak and the group disbanded in 1970. The album was to have included many tracks which were censored by Epic, including three that were removed for taking stands on major political issues of the day, including the Chicago riots.
The group reformed in 1975 for a rather disappointing album When Scopes Collide, (Pacific Arts 102) and again in 1995 for the Greetings From Kartoonistan album.
Kaleidoscope also recorded a some pre-Epic demos, which were produced by Curt Boettcher and Victoria Winston. Tantalisingly, these have recently resurfaced and the tape log indicates that the sessions included Down The Line, an early version of Egyptian Gardens, plus a reel apparently containing a number of songs labelled Irish With Sitars. ~ (Vernon Joynson / Joe Foster)
01. Egyptian Gardens 3:06
02. If The Night 1:49
03. Hesitation Blues 2:30
04. Please 3:20
05. Keep Your Mind Open 2:19
06. Pulsating Dream 1:58
07. Oh Death 3:29
08. Come On In 2:10
09. Why Try 3:42
10. Minnie The Moocher 2:18
bonus:
11. Elevator Man 2:57
12. Love Games 2:30
13. I Found Out 2:11
14. Baldheaded End Of A Broom 3:15
15. Life Will Pass You By 3:26
16. Egyptian Candy 3:02
17. You Don't Love Me 4:00
18. Beacon From Mars 12:33
19. Lie To Me 2:48
20. Cuckoo 4:18
21. Banjo 3:37
22. To Know Is Not To Be 2:18
23. Sefan 4:30
Saul (Solomon) Feldthouse - caz, oud, doumbeg, gong, bass, vocals
David Lindley - banjo, fiddle, guitar, harpguitar, vocals
Max Buda (Chester Crill) - organ, harmonium, fiddle, bass, piano, harmonica, harpsichord
Chris Darrow - bass, guitar, mandolin, vocals
John Vidican - percussion, drums, timpani
Sign up please for display Links
Dear visitors, if you need the links are broken, please leave a request in the comments, I will try as much as possible to restore them for you

4.7

/

3
Total comments: 0
Action: 10% discount coupon for Depositfiles Gold accounts for 6 months and 1 year periods. The coupon is very simple in usage: you enter it on the Gold account payment page and after the prices are recalculated can buy an account with the discount.
Your coupon: vkanhlm5uqib3uugw6aqifkcudbnzqej