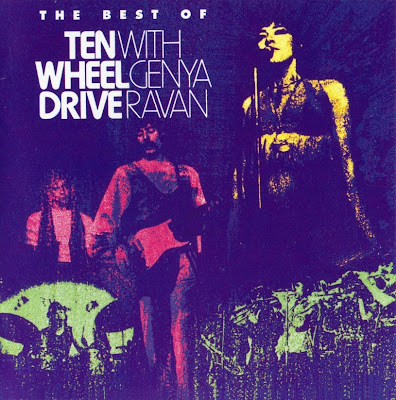 genre: psych, soul, blues
country: us
quality: lossless (flac, cue, log, booklet scans)
time: 1:19'03" size: 592 mb
Fuzz Acid & Flowers:
In the same category as Janis Joplin, Genya Ravan began singing in the sixties with a girl group, Goldie and The Gingerbreads. In 1969 she became the lead singer of Ten Wheel Drive, a group formed by Aram Schefrin and Michael Zager, who played an energic combination of rock, R&B and jazz, with a horn section a la Blood Sweat and Tears and the solid guitar work of Schefrin.
After three albums with Ten Wheel Drive, Genya Ravan went solo to record four solo albums under her name on CBS, Dunhill, and 20th Century between 1972 and 1979 plus one as "Goldie Zelkowitz" (Janus 3060, 1974). After a final album on Capitol, the group broke up. Their albums have yet to attract collectors.
Michael Zager would resurface with Let's All Chant during the disco period!
(Stephane Rebeschini)
| | |
| --- | --- |
| DENNIS PARISI | trombone |
| GENYA RAVAN | vcls, hrmnca |
| ARAM SCHEFRIN | gtr, vcls |
| BILL TAXAS | bs |
| MICHAEL ZAGER | keyb'ds |
| ALLEN GERMAN | drms |
01. Tightrope 5:13
02. Lapidary 4:34
03. Eye Of The Needle 8:13
04. Candy Man Blues 4:39
05. Ain't Gonna Happen 5:42
06. House In Central Park 4:32
07. Morning Much Better 2:38
08. Brief Replies 5:24
09. Come Live With Me 5:24
10. Stay With Me 4:23
11. How Long Before I'm Gone 6:46
12. Last Of The Line 5:22
13. The Night I Got Out Of Jail 3:50
14. Shootin' The Breeze 3:21
15. Love Me 5:07
16. I Had Him Down 3:54