R.I.P. of Oldish Psych & Prog blog
Global Searcher:
Site Content only Searcher


Main
»
2011
»
January
»
8
» Sensations' Fix ~ 1974b ~ Fragments of Light
---
15:33
Sensations' Fix ~ 1974b ~ Fragments of Light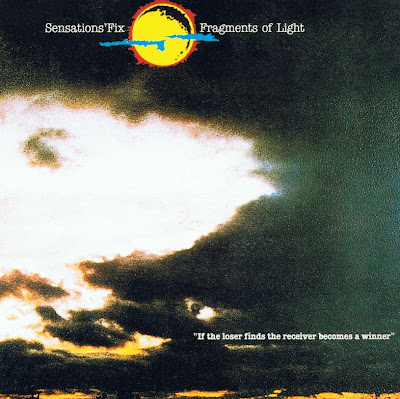 genre: psych, space
quality: lossless (flac, cue, log, scans)
time: 38'24" size: 223 mb
ItalianProg:
Franco Falsini had been in 1966 one of the founder members of the legendary power trio Noi Tre, that also featured a future member of
La Triade
, Agostino Nobile. The group, equally influenced by the likes of Cream and Pretty Things, only released a single in 1968, after which Falsini left them, replaced by another future legend of the italian progressive rock, Paolo Tofani, later with
Area
and also known as
Electric Frankenstein
.
After another short-lived group, Le Madri Superiori, Falsini then formed Sensations' Fix, with former Campo di Marte italo-american bass player Richard Ursillo and american drummer Keith Edwards.
It's worth noticing that the group's name has been written as Sensation's Fix on their promo-only first album and Sensations' Fix in the other ones.
The group was based in a farm near Florence, and had a krautrock-like attitude that leaves them as a unique band in the italian prog field. Mainly an electronic band, based on keyboards and with very little use of voice, they released no less than three albums in 1974, one of them only intended for promotional use, and all based on instrumental-only themes in the same style as many german bands of the Cosmic Couriers genre.
Their albums were self-produced and recorded in the band's own studio, with an amateurish sound quality.
With the entrance of keyboardist Stephen Head, the fourth album Finest finger is their first containing many vocal parts, a more accessible work than their previous ones. In the same direction their next LP, Boxes paradise.
The band went to California, where another US-only album, Vision's fugitives, was released, with no success. The most american-sounding of their album, this also includes former Campo di Marte drummer Carlo Felice Marcovecchio (credited as Marco Marcovecchio) in a couple of tracks.
Their late album was Flying tapes, released in 1978 and including reworkings of tracks from their earlier LP's.
In 1979 with the new name Sheriff, the group, now based in Virginia and with a line-up of Falsini, Ursillo, Edwards and second guitarist Frank Filfoyt, issued an US-only album, with a much rockier sound.
The final split followed, probably in the early 80's.
Leader Franco Falsini also released a solo album, Cold nose, soundtrack to a film with the same name, in 1975.
He's been reported producing techno music in London in the early 90's.
Bass player Richard Ursillo has kept playing in various groups in the Florence area after the band's demise, and was briefly involved in Campo di Marte 2003 reunion.
01. "Fragments Of Light" 3:28
02. "Nuclear War In Your Brain" 3:41
03. "Music Is Painting In The Air" 4:19
04. "Windopax And The Stone Sender" 2:32
05. "Spacer Energy Age" 3:52
06. "Metafel + Mafalac" 1:35
07. "Space Closure" 6:29
08. "Music Without Gravity" 2:10
09. "Do You Love Me?" 2:55
10. "Life Beyond The Darkness" 3:44
11. "Telepathic Children" 3:39
Keith Edwards / drums, percussion
Franco Falsini / guitars, synthesizers
Richard Ursillo / bass, electronic pedals
Sign up please for display Links
Dear visitors, if you need the links are broken, please leave a request in the comments, I will try as much as possible to restore them for you

5.0

/

1
Total comments: 0
Action: 10% discount coupon for Depositfiles Gold accounts for 6 months and 1 year periods. The coupon is very simple in usage: you enter it on the Gold account payment page and after the prices are recalculated can buy an account with the discount.
Your coupon: vkanhlm5uqib3uugw6aqifkcudbnzqej