R.I.P. of Oldish Psych & Prog blog
Global Searcher:
Site Content only Searcher


Main
»
2011
»
January
»
6
» Ultimate Spinach ~ 1968 ~ Ultimate Spinach
---
13:00
Ultimate Spinach ~ 1968 ~ Ultimate Spinach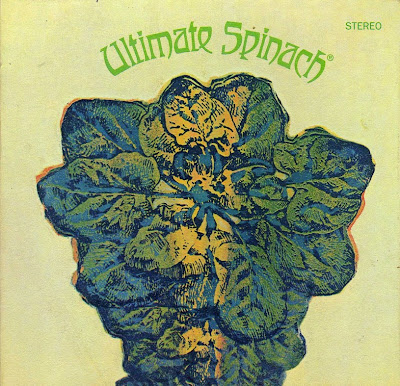 genre: psych
quality: lossless (ape, cue, log, scans)
time: 48'33" size: 291 mb
Fuzz Acid & Flowers:
Originally known as Underground Cinema, this band were discovered by producer Alan Lorber, who changed their name and signed them to MGM. Part of the emerging 'Bosstown Sound' of 1968, they were the brainchild of group member Ian Bruce-Douglas, who also wrote all the material on their first two albums. Barbara Hudson's beautiful voice gave the group a distinctive vocal sound.
Their debut album was a very trippy affair. The double fold-out cover contained highly pretentious sleeve-notes by Bruce-Douglas. This pretentiousness was evident, too, in the album's lyrics. The album met with considerable commercial success peaking at No. 34 in the U.S. Album Charts.
Their follow-up album, Behold And See was in similar vein. The lyrics were less impressionable, though, and their music had become more mystical, particularly on the excellent Genesis Of Beauty Suite and Fragmentary Marches Of The Green. Other tracks like Mind Flowers, may be seen as an extension of themes from their earlier album. Once again, Barbara's vocals glisten with beauty. This reached No. 198 in the Album Charts. Both albums are classic acid rock period pieces and highly recommended, if one can excuse their more pretentious trappings.
Bruce-Douglas' departure after their second album had a profound effect on the band's musical direction. All the material on the third album, apart from the opening cut Romeo and Juliet, was written by the new band and lacked the imagination of Bruce-Douglas' work. For the third album, Jeff Baxter, who later had a spell with Steely Dan, came in on lead guitar and Ted Myers and Tony Scheuren joined from Boston label-mates Chamaeleon Church. Curiously, Mike Levine, who was listed as bassist didn't actually play on the record. Tom Caulfield who had been a lifelong pal of Mike's and who'd previously played for the soul group The Three Degrees, instead played impeccable bass and a super harp solo on Eddie's Rush, the blues jam that concludes side one. Only Barbara Hudson remained from the original line-up, and although their final album, is overall less interesting, it is still worth hearing. ~ (Vernon Joynson / Mark Scheuren / John Melbourne / Max Waller)
01. "Ego Trip" 3:16
02. "Sacrifice of the Moon (In Four Parts)" 3:48
03. "Plastic Raincoating/Hung Up Minds" 2:59
04. "(Ballad Of) The Hip Death Goddess" 8:17
05. "Your Head Is Reeling" 3:43
06. "Dove In Hawk's Clothing" 3:56
07. "Baroque #1" 4:51
08. "Funny Freak Parade" 2:37
09. "Pamela" 3:11
10. "Your Head Is Reeling (Mono Version)" 3:40
11. "(Ballad Of) The Hip Death Goddess (Mono Version)" 8:16
Ian Bruce-Douglas/ Keyboards,Guitars,Harmonica, Theremin, Wood Flutes, Sitar,Vocals,Vibraphone,12-String Bass Guitar
Barbara Hudson/ Vocals, Guitar
Keith Lahteninen/ Drums,Percussion, Vocals
Geoffrey Winthrop/ Guitar,Sitar,Vocals
Sign up please for display Links
Dear visitors, if you need the links are broken, please leave a request in the comments, I will try as much as possible to restore them for you

5.0

/

3
Total comments: 6
Action: 10% discount coupon for Depositfiles Gold accounts for 6 months and 1 year periods. The coupon is very simple in usage: you enter it on the Gold account payment page and after the prices are recalculated can buy an account with the discount.
Your coupon: vkanhlm5uqib3uugw6aqifkcudbnzqej