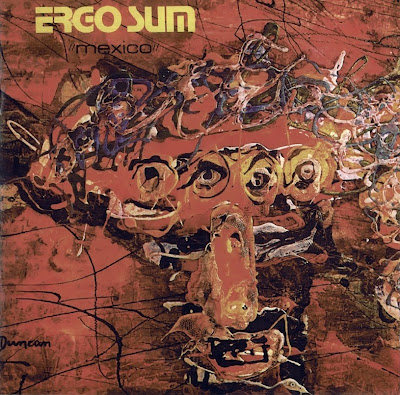 genre: psych, zeuhl
country: france
quality: lossless (flac, cue, log, scans)
time: 52'06" size: 352 mb
misc.: 2007
Scented Gardens of the Mind:
This important group, first known as Lemon Pie, was formed by Ledissez and Guerin in 1968. Their innovative blend of rock, jazz and other ingredients characteristically failed to attract French record companies, until Laurent Thibault recognised them as being really impressive in early 1971. At that time he was just about to launch his own label Thйlиme (distributed by Barclay) and offered the band recording time in the legendary Chateau d'Herrouville studio (whose famous clients have ranged from Elton John to Jethro Tull and Pink Floyd). Mexico (because Ledissez had lived there), became Thйlиme's first release, setting high standards from the outset. Ergo Sum had a really refined and tasteful sound with Ledissez's broken voice (reminiscent of Roger Chapman from Family and Alvarro Fella of Jumbo), Meynet's violin (quite similar to Dave Arbus of East Of Eden) and Guerin's chilling electric piano as their main forces. This was not 'progressive' in the sense of 'endless instrumentais', rather more like Traffic's song-based approximation (on their second album), characterised by impeccable musicianship and songwriting. Ergo Sum used English lyrics, which was most common before Ange strengthened bands' confidence in using French. The album Mexico is a classic and still a refreshing experience to hear today.

Regretably the group only just survived into 1972, with Marc Perru (ex-Cruciferius) and Edouard Magnani replacing Leonardi and Touat. This line-up recorded a last single ('Tijuana"). Their last live engagement was performed by a different configuration, including Francois Breant (also ex-Cruciferius), Jean-My Truong (pre-Zao) and Marc Bertaux. Breant and Perru then formed a new group named Nemo.
01. Night Road 3:07
02. Unparalleled Embrace 2:50
03. John's Nightmare 3:58
04. Faces 6:33
05. Second Rebirth 4:15
06. Mexico 3:36
07. I Know Your Mother 8:57
08. Albion Impressions 4:57
09. Lydie 1:00
10. All's So Comic (Bonus Track) 6:07
11. Tijuana (Bonus Track) 3:47
12. It's Me (Bonus Track) 2:07
13. Mexico (Instrumental) (Bonus Track) 0:54
Tracks 1-10 et 13 (enregistred on august-september 1970):
- Lionel Ledissez / vocals, percussion, sleigh bells
- Jean Guérin / flute, Wurlitzer, Steinway, Rhodes piano, Hammond organ, whistling (1)
- Michel Leonardi / electric & acoustic guitar, vocals (3)
- Roland Meynet / violin, acoustic guitar (4)
- Max Touat / bass, acoustic guitar (6 & 7), double-bass (4)
- B.B. Brutus / drums, congas, maracas, percussion
+
- Laurent Thibault as " El Tibo " / acoustic rhythm guitar
- Dominique Blanc-Francart / moog (5)
Tracks 11 et 12 (enregistred on january 1972):
Lionel Ledissez, Jean Guérin, B.B. Brutus, Roland Meynet & Marc Perru / guitar, xylophone
- Edouard Magnani / bass
- Unknown musician / percussion