R.I.P. of Oldish Psych & Prog blog
Global Searcher:
Site Content only Searcher


Main
»
2010
»
July
»
29
» Southwest F.O.B. ~ 1968 ~ Smell of Incense
---
21:46
Southwest F.O.B. ~ 1968 ~ Smell of Incense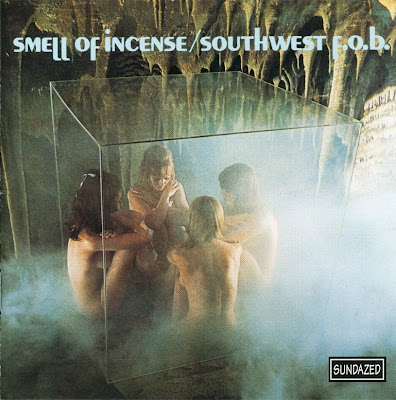 genre: psych
country: us
quality: mp3 (256k, scans)
time: 1:08'59" size: 128 mb
misc.: 1998
Fuzz Acid & Flowers:
This Dallas outfit was originally called Theze Few and included England Dan and John Ford Coley, who went on to achieve considerable success as a duo. In 1967 they played a gig in Dallas with visiting L.A outfit, the West Coast Pop Art Experimental Band. Impressed by the latter's tune, Smell Of Incense, they decided to record it, shortening it for AM radio consumption and adding superbly-executed five-part harmonies. The result was a hit single which reached No. 56 in the Billboard chart.
Their pleasant soft rock album was recorded at Robin Hood Brians studios in Tyler, Texas on October 25/27th, 1968, and has some psychedelic influences as well as a risque (for 1968) cover shot of four naked women enclosed in a plexiglass box (calling Dr. Freud!).
And Another Thing is an interesting extended track, much in the In-A-Gadda-Da-Vida mould, with echoing drums rolling back and forth across the stereo mix over a bass ostinato. There are also good versions of Buffalo Springfield's Rock 'N' Roll Woman and Chuck Berry's Nadine as well as a few harbingers of England Dan and John Ford Coley's somewhat bland future sound.
Southwest F.O.B were apparently a killer live act to the extent that they reportedly blew Led Zeppelin off stage in August, 1969 (a gig which culminated in Zeke setting his cymbals on fire and throwing his drumkit all over the stage). They generally opened with a set of soul covers then, after a costume change, did a set of Cream-like hard rock and finished with a set of original material. They were also known for their attire (powder blue double-breasted suits with high collars) which were designed by their guitarist, Ovid.
After Woolbridge and Bates left the band, ennui set in and sessions for a proposed second album were aborted (in Coley's words, "Everyone was pretty disorganized; people were drunk and passed out." Soon after, Seals and Coley left and the remaining quartet settled into playing a Southern blues styled music but the group fell apart a year later when Zeke got married and pulled out of a tour.
On the Big Beat release And Another Thing was edited down to just over two minutes. This release also substitutes the weaker album cuts with the singles and three otherwise unreleased tracks You're Looking So Fine, Monday's World, and I'm Coming. These seem to date from late in the group's career. Curiously the Sundazed CD omits these three tracks but includes all the rest of their output including Mercy, Mercy, Mercy from the Soul Explosion album, and both sides of the Theze Few single.
The "F.O.B." apparently stood for "Freight On Board". ~ (Vernon Joynson / John Melbourne / Lloyd Peasley)
Smell of Incense (Bob Markley, Ron Morgan) (2:40)
Tomorrow (Dan Seals) (3:11)
Rock & Roll Woman (Stephen Stills) (2:47)
Downtown Woman/Nadine (Dan Seals) (6:54)
All One Big Game (Dan Seals) (2:54)
On My Mind (Dan Seals) (2:26)
Bells of Baytown (Dan Seals) (3:30)
And Another Thing (Dan Seals) (11:55)
Mercy, Mercy, Mercy (Joe Zawinul) (2:59)
Independent Me (Dan Seals) (2:27)
Green Skies (Dan Seals) (2:02)
As I Look at You (2:23)
Beggar Man Dean Seals (2:29)
The 59th Street Bridge Song (Feelin' Groovy) (Paul Simon) (2:52)
Dynamite (2:36)
I Want Your Love (Dan Seals) (2:15)
Smell of Incense [Single Mix] (Bob Markley, Ron Morgan) (2:41)
Nadine [Single Version] (Chuck Berry) (2:59)
Tomorrow [Alternate Mono Mix][Alternate Take][Version] (Dan Seals) (3:11)
And Another Thing [Edited Mono Version][Version] (Dan Seals) (3:10)
JOHN "LASSIE" COLEY keyb'ds, vcls

TONY "ZEKE" DURRELL drms

(ENGLAND) DAN SEALS ld vcls, sax

LARRY "OVID" STEVENS gtr, vcls

MIKE "DOC" WOOLBRIGHT bs, vcls
A 20-track compilation including everything from their sole album, plus some non-LP singles, alternate mixes and versions, a song available only on the late-'60s Soul Explosion compilation, and a 1966 single by These Few, the group that evolved into Southwest F.O.B. "Smell of Incense" is certainly the best cut here, much of the rest being average or below-average pop-psychedelia, prominently featuring organ, and sometimes employing horns. The ballad "Tomorrow" shows the soft-rock tendencies that would blossom when the songwriters formed England Dan and John Ford Coley in the 1970s. Actually, some of the better cuts are the least characteristic of the band: the These Few tracks, and the single "Independent Me," have a driving pop-rock rhythm reminiscent of the Five Americans. ~ Richie Unterberger, All Music Guide
Sign up please for display Links
Dear visitors, if you need the links are broken, please leave a request in the comments, I will try as much as possible to restore them for you

5.0

/

1
Total comments: 1
Action: 10% discount coupon for Depositfiles Gold accounts for 6 months and 1 year periods. The coupon is very simple in usage: you enter it on the Gold account payment page and after the prices are recalculated can buy an account with the discount.
Your coupon: vkanhlm5uqib3uugw6aqifkcudbnzqej